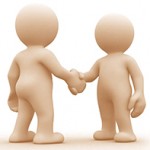 Be honest with your doctor
Contact made!
The therapist and the patient come in contact at the first meeting. The issue of the reliable contact and trust-based relations is of paramount importance both for the patient and the osteopath. It is very essential for the patient to be sure in the therapist's competence, in his attentiveness and helpfulness, and the therapist needs to the correct diagnose, plan successful treatment and be sure that the patient fully trusts him and really intends to comply with his prescriptions.
The maximum effect of treatment requires osteopath's professionalism and deep clinical knowledge. A visit to the osteopath always starts with a conversation. The doctor discovers the patient's history and listens to the complaints. The therapist also needs to know about your previous treatment, procedures, and medications taken. Please, don't keep any information about your health from the therapist. Even minor details are of great importance and, first of all, it is essential for you.
Any information regarding your condition and knowledge about how your body reacts to certain prescriptions will not only contribute to making the right clinical diagnosis, but will help make the correct tactical plan of further treatment.
The osteopath not just listens to you. He analyzes, compares and makes conclusions. Complying with the "do no harm" principle, the therapist should understand the reasons for the sudden deterioration or improvement of your condition. More than half of the therapist's success depends on the trust between him and the patient. If you do not trust your doctor or doubt his competence, or if you do not believe in your recovery, better consult another doctor.